The Credit Union Art Competition and the John Gaynor Memorial Student Scholarship Scheme
On Thursday the 16th of November 2017 we held our annual prize giving ceremony for the Credit Union Art competition and the draw for the coveted John Gaynor Memorial Student Scholarship Scheme. We would like to thank everybody who came out for what was a fantastic evening. The Credit Union Art Competition is one of the most successful annual promotions undertaken by Credit Unions and Tipperary Credit Union has been involved in this since its start. The talent and creativity that has been shown by our young members throughout the years has been outstanding and this year has been no exception.
There are some photos of the winners taken on the night at the end of the post.
We would like to thank all the students who participated, the teachers and their schools who supported and encouraged them. The Youth Committee who worked hard to organise the event. A special thanks to the Board of Tipperary Credit Union who always has the vision and belief in encouraging and supporting our younger members. John Gaynor Memorial Student Scholarship Scheme Tipperary Credit Union operates a Student Scholarship Scheme for members entering the first year of a recognised Third Level or Post Leaving Cert course. The John Gaynor memorial scholarship is an open draw, and is not based on academic achievement.
One lucky student each year qualifies for this scholarship.
The scholarship is available to students undertaking Third Level Courses or Trade Apprenticeships.
The Scholarship will be paid at a rate of €1,500 per annum for a maximum of four years or the course duration whichever is the lesser.
2nd Prize: A second prize for an Apple iPad will be drawn from entrants remaining after the scholarship draw has taken place.
We would encourage anyone who is hoping to enter Third Level next year to enter the draw. Click on the link below to find out more about the John Gaynor Student Scholarship Scheme  https://www.tipperarycu.ie/student-scholarship-scheme/.
The winner of this year's Scholarship was: Philip Moore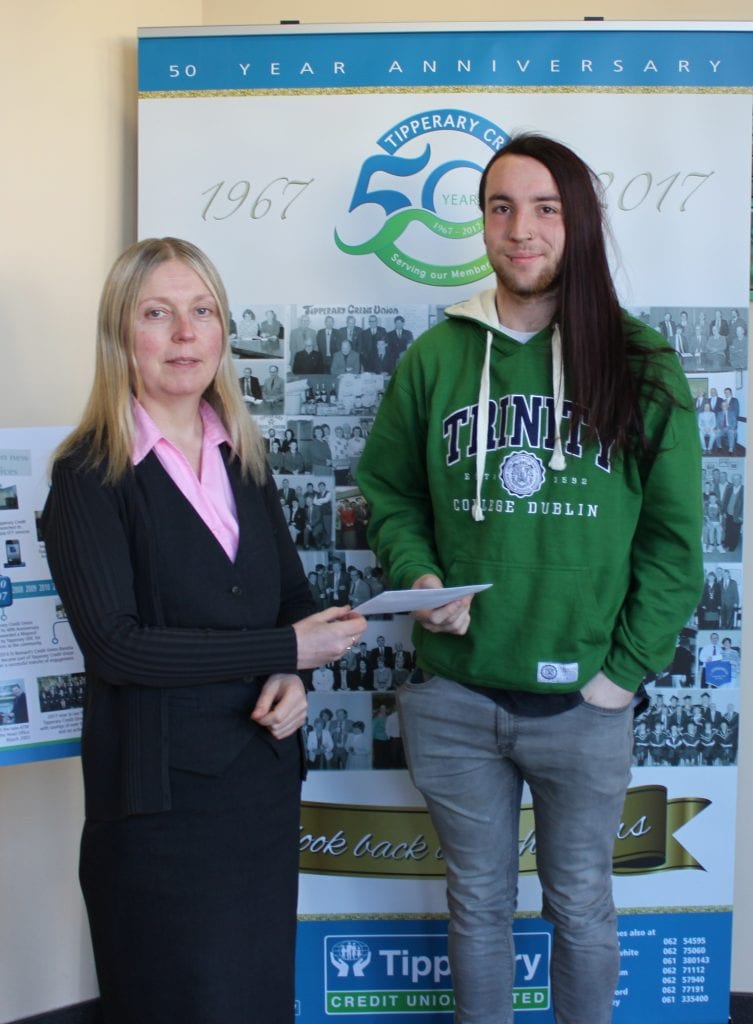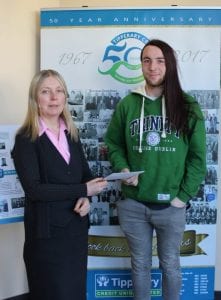 The winner of this year's iPad was: Cormac Roche
Well done to both and thank you to all who took the time to fill out the form and enter what is a very worthwhile draw!
Some of the other youth projects and activities that we do here at Tipperary Credit Union are:
Beanie Savings Club
Digital Media Competition
Transition Year Bursary of €500 to five secondary schools in our common bond.
Student Loans which cater for Primary, Secondary and Third Level Education.
Schools Quiz Competition which is coming up in the coming months so make sure to participate in that.
The Art competition is about encouraging and rewarding self-expression, creativity and imagination among young artists throughout Ireland. Below is a list of the winners on the night thanks again for all who turned out:
7 and Under                                                                                                                        8 -10 Years
1st Prize Eoin Murphy (Convent of Mercy Doon)                                                           1st Prize Kathrn Quayle (Milford National School)
2nd Prize Reanna Minogie (St Michaels GNS)                                                                2nd Prize Eabha Byrnes (St Josephs NS)
3rd Prize Hayden Keane (Annacarty NS)                                                                          3rd Prize Lily Holmes (Doon Convent Primary)
Highly Recommended Clionadh Ward (St Josephs NS)                                                Highly Recommended David Moloney (The Monastery CBS)
11-13 Years                                                                                                                           14-17 Years
1st Prize Emmett Roche (Doon CBS)                                                                                   1st Prize Amy Lowry ( St Anne's Secondary School)
2nd Prize Tamara Orosz (Castletroy College)                                                                    2nd Prize Rebecca Moloney (St Anne's Secondary School)
3rd Prize Lara Orosz (Milford National School)                                                                3rd Prize Sinead Lohan (St Anne's Secondary School)
Highly Recommended Mark Cavanagh (The Monastery CBS)                                       Highly Recommended Gabriela Blajek ( St Ailbes)
Special Category
1st Prize Mary Treacy
2nd Prize Carmel Magner
3rd Prize Joey Maher