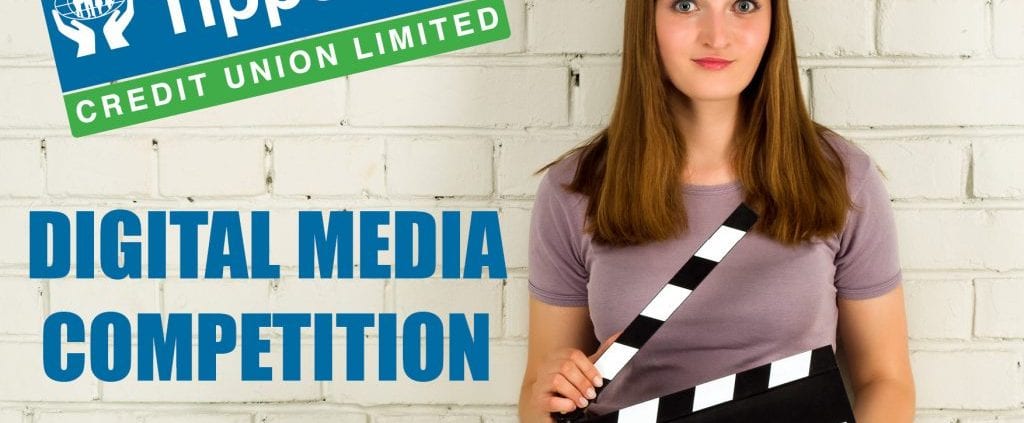 The competition is open to students at the following schools: St Anne's Secondary School, The Abbey CBS, St Ailbe's Vocational School and Scoil na Trionoide Naofa.
You can have a maximum of 5 students per team. Schools can have multiple entrants but each school team must receive the permission of the school principal or one other authorised school representative to compete. Consent from a parent or guardian is also required. The theme of the digital video is "The Credit Union Difference". It should also be remembered that it is Tipperary Credit Union's 50th Anniversary this year.
The video should be suitable for display on YouTube, Facebook, Twitter, Credit Union website and other online media channels. The video should be a minimum of 30 seconds and a maximum of 60 seconds long. The video content can be live action or animated. The competition would be promoted by the Credit Unions Youth Committee and the student bodies where applicable.
The closing date for entry forms to be submitted is Friday 7th April 2017 and entry forms must be submitted with all parental consent forms to be considered valid. Closing date for video submissions is Thursday the 18th of May 2017. The video can be submitted any time
before this date. The video must be emailed to digitalmedia@tipperarycu.ie for vetting no later than the 5.00p.m. Friday the 5th of May. The team name needs to be referenced on all correspondence from the entrant to Tipperary Credit Union. Video clips must be vetted and approved by Tipperary Credit Union before being displayed online or on any media channel. Tipperary Credit Union will have the final say on what is deemed appropriate. The teams have until 11.59p.m. Sunday May 14th to promote their digital video. It can be promoted as soon as it is vetted and approved. The team will receive a confirmation email once the video has been vetted and approved for promoting.
The video will be displayed on Tipperary Credit Union's own media channels (Facebook, Twitter, YouTube, Website, etc.) and it can be liked, shared and promoted from there.
The entries will be judged under the following main criteria:
Original and Inventive Elements (Is the clip original in its content and format?)
Compelling Nature (Is the clip inspiring? Does it catch the audience's attention?)
Development of Concept (Is there a clear structure to the clip? How good is the production? Is a central theme apparent?)
The number of likes, shares, views, tweets and the general promotion of the video.
https://www.tipperarycu.ie/wp-content/uploads/2017/12/DIGITAL-MEDIA-COMP-2017-1024x725.jpg
725
1024
TippCU
https://www.tipperarycu.ie/wp-content/uploads/2017/12/logo.svg
TippCU
2017-05-19 17:00:35
2017-12-15 16:24:05
Digital Media Competition 2017