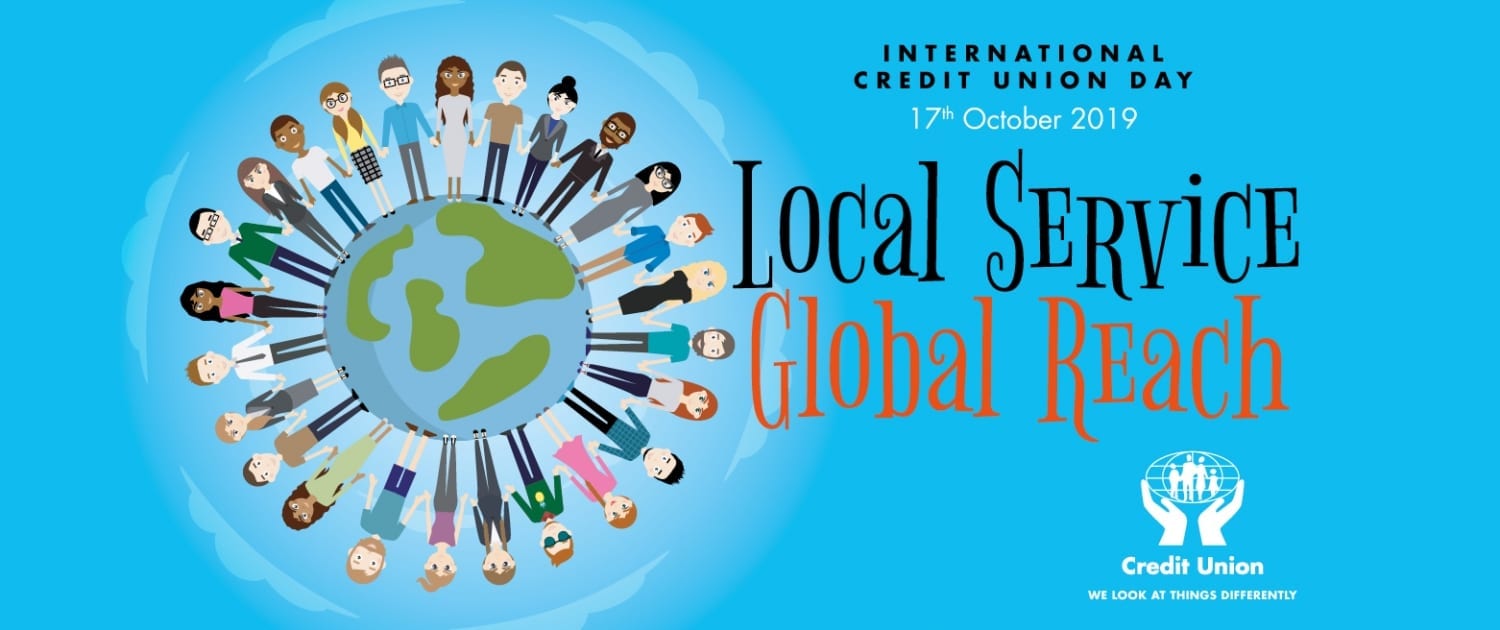 Credit Union Ethos Celebrated on 71st International Credit Union Day®
 Tipperary Credit Union joins more than 89,000 credit unions around the world to celebrate International Credit Union Day® (ICU Day®) on 17th October. The 71st ICU Day® is an important celebration not just for the global movement, but also for Irish credit unions.
In Ireland, credit unions are more important and relevant than ever. There are now 3.6 million credit union members on the island of Ireland, benefitting from €4.9 billion in loans. Lending by credit unions is up by 7.2% year-on-year, as members continue to benefit from affordable and flexible lending terms and conditions.
Credit unions are ethical, not-for-profit lenders that continue to provide effective and viable alternatives to financial institutions that operate for profit. Credit unions genuinely care about their members and put them at the heart of everything they do. This is why Irish credit unions have won the national customer experience award, CX Award, for a record-breaking four consecutive years. They are the only organisations in the world to have achieved this.
The theme for the 71st ICU Day® is 'Local Service. Global Reach.'  This is reflective of how each individual credit union serves a local community. Collectively, this local connection has a global effect – there are now 260 million credit union members in 117 countries worldwide.
Celebrations in Irish credit unions on 17th October will revolve around the 'Local Service Global Reach' theme.
To mark the occasion, Tipperary Credit Union will host a FREE FUN Table Quiz.
When: Thursday the 17th of October,9p.m. sharp!
Location: Quinlan's Pub, Davis Street, Tipperary Town.
Teams of 4 – Free Entry
€600 up for grabs for local clubs and charities.
-1st Prize €300 to winning teams local club/charity of their choice.
-2nd Prize €200 to the runner up teams local club/charity of their choice.
-3rd Prize €100 to local club/charity of team chosen based on a lucky dip of non-winning teams.
There will be loads of spot prizes on the night.
Speaking about the Free Fun Table Quiz to mark ICU Day® John P Hartnett Chairperson at Tipperary Credit Union said: "Tipperary Credit Union, like all credit unions, shares a common goal to offer access to affordable loans to the local communities we serve. We strive to provide even the most financially disadvantaged sectors of our communities with the tools and the opportunities to be financially self-sufficient. We go over and above on a daily basis in an effort to help achieve their life goals; be they education or travel goals, a wedding or renovating the home for the family. This is the credit union difference that makes a real, positive impact on the lives of people in the Tipperary/Limerick area. We look forward to celebrating this with our members, and indeed the whole community, on ICU Day®."
Tipperary Credit Union has been proudly serving the Tipperary/Limerick area for 52 years. Tipperary Credit Union has a membership of over 27,000, and in the past year alone has provided over €17 million in loans to the local community.
ICU Day® has been celebrated annually since 1948, and is traditionally marked on the third Thursday in October. The awareness day celebrates the spirit of the global credit union movement. It is an opportunity to reflect upon the credit union movement's history, promote its achievements, recognise the hard work and share member experiences.
For further information, please contact Tipperary Credit Union on 062 80400
https://www.tipperarycu.ie/wp-content/uploads/2019/10/OMI27306-ICU-Day-2019-FB-Cover_FINAL.jpg
656
1725
Claire Costelloe
https://www.tipperarycu.ie/wp-content/uploads/2017/12/logo.svg
Claire Costelloe
2019-10-09 09:49:30
2019-10-09 09:49:30
International Credit Union Day 2019