Introduce a Friend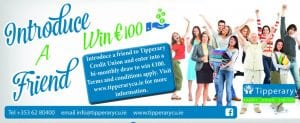 How would you like to be in with a chance of winning €100? It's simple all you have to do is Introduce a Friend to Tipperary Credit Union. When you do this you will then be entered into a draw to win €100, which takes place on a bi-monthly basis.
How to Join?
How do I Introduce a Friend?
You can obtain a Introduce a Friend Card from any member of staff.
You must fill out your details on this card. Once it is filled out correctly you must then give it to your Friend/Family member that you are introducing to Tipperary Credit Union.
When they are joining they must then produce the card to the member of staff who will put it into the monthly draw. The person you have Introduced will then be entered into the New Members Draw where they will have a chance to win €100 too.
Terms & Conditions
The person referring the friend (Nominator) must be a member of Tipperary Credit Union (must have a minimum share balance of €5 in their account at the time of the draw).
The nominee (friend being referred) must have a minimum share balance of €5 in their account at the time of the draw.
As a member of Tipperary Credit Union you may refer as many people as you would like as long as the nominee resides in our common bond. You cannot win multiple times with the same nominee; however you may win multiple times with different nominees. You cannot refer the same individual more than once.
If the Nominator has arrears on their Tipperary Credit Union loan they cannot avail of the offer.
The draw will take place every two months with the first draw taking place on the 31st of January 2017 and every two months thereafter. Your entry in the draw will remain for 12 months or until you win a prize whichever is the shortest.
The winner of the draw will be required to have a photo taken when collecting the prize. This image may be used on our website, all social media forums and local and national papers to promote Tipperary Credit Union.
The Nominator must agree to the terms and conditions of the draw in order for it to be a valid entry.
Tipperary Credit Union reserves the right to withdraw the offer generally or from any particular Nominators or Nominees at any time and to vary or amend any element of this service at any time without further notice. These terms and conditions may be varied or amended by Tipperary Credit Union for any valid commercial, technical or operational reason.
This offer cannot be used in conjunction with any other offer.
Tipperary Credit Union is regulated by the Central Bank of Ireland.
How to Join?
Joining is easy, once you are within the common bond, i.e. you are living or working in the area, you can apply for membership. You can call into any of our 8 offices to open an account. If you need more information on our office location click here.
To join you will need three forms of identification, one from each of these three sections.
---
1. Evidence of Identification (must have date of birth and recent photo)
Current valid passport or Current valid driving licence
2. Evidence of Address (must show your name & current address and be dated within the last 3 months)
Original Recent Utility Bill
Original Recent Bank/Credit Card Statement
Government Correspondence
3. Evidence of your PPS number
Social Services Card
Payslip
Any revenue documentation
Membership fee of €1 applies. A minimum share balance of €5 is required to open an account and to retain membership.
---
For Newborn to 16 years you will need:
1. Photographic I.D: child's birth certificate or passport.
2. Proof of Address: parent(s)/guardian(s) utility bill, government letter or bank statement dated within the last 3 months.
3. Proof of PPS Number: Proof of the child's Personal Public Service Number.
Like many other websites, we use cookies. For further information, please see our Cookies Policy. By continuing to use this website, you consent to the use of cookies in accordance with our Cookies Policy. Find out more.
Scroll to top