Our Loans and Rates
Lending Rates Effective March 2018
Personal Loan Rate 10.4% (Variable)
Our standard loan rate of 10.4% is available for the expected events in your life as well as the unexpected ones. If it's a holiday you need or medical expenses that are stacking up, apply online now. We are here to help.
Home Improvement / Business Loan 8.5% APR (Variable)
Are you looking to improve your biggest investment? Let us help you to create your dream home or give you business the boost it needs. Our Home Improvement Loan and Business loan products can get you just what you want. Apply online today or call into one of Our branches for more information.
Reduced Car Loan 8.5% APR (Variable) "drive home a bargain"
With a car loan from us, you own your car from day one. Let us help you to have your finance arranged before you enter the dealers showroom, this puts you in the drivers seat. We offer up to €40,000, so is now the time to get your dream car?
Promotional Rate 6.9% (7.12% APR) Re Connect / First Time Borrowers
Limited time Only – Offer ends 31st March 2019
Offer available until the 31st of March 2019 for all new borrowers or members who have not borrowed in the last 12 months. Whatever your reason this loan is available from €500 to €29,999.99. Apply online now.
Re-Connect Loan / First Timer Borrower Rate  6.9% (7.12% APR)
Special Limited Time Offer – 30% reduction on our Standard Rate 9.9% (10.4% APR)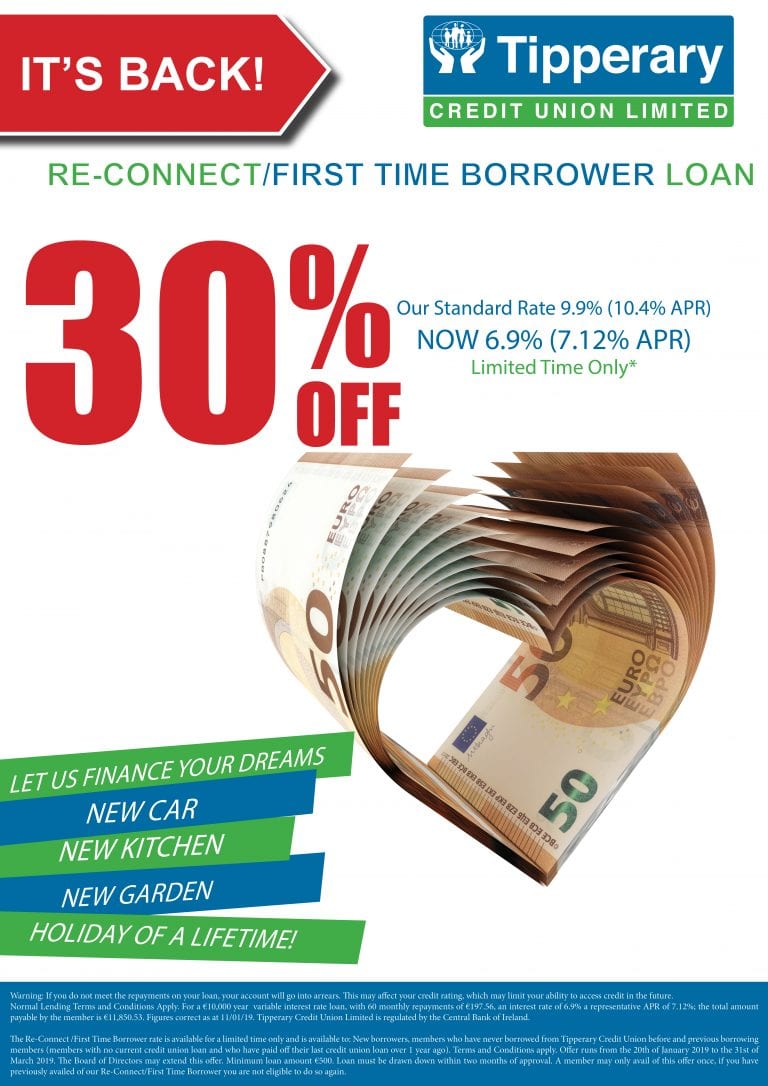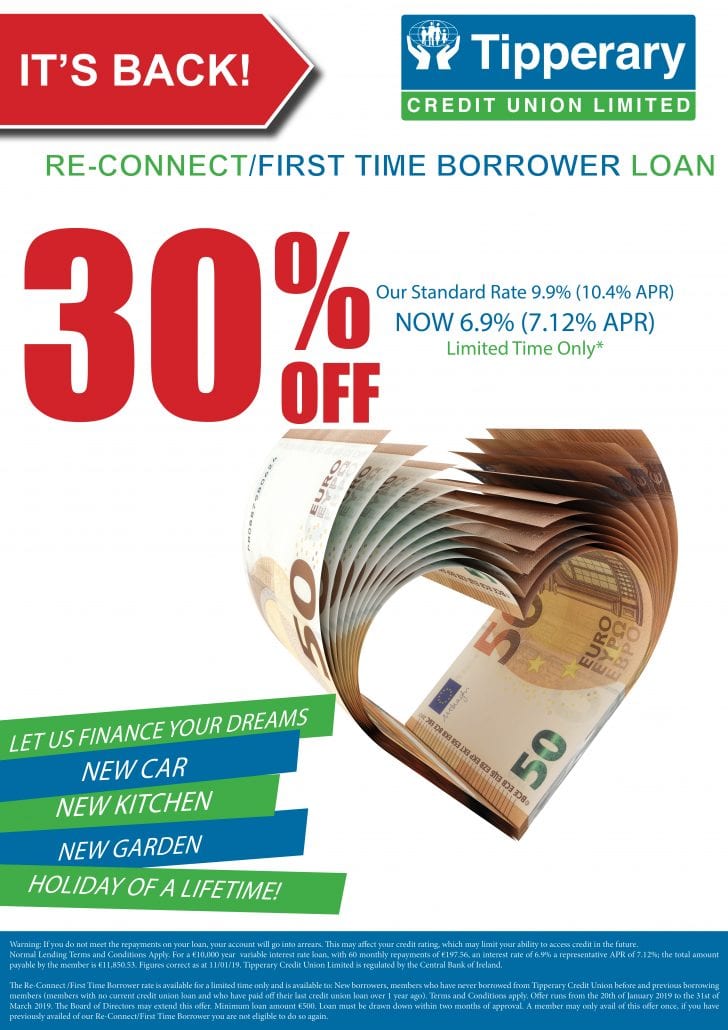 Available for First Time Borrowers and Existing non Borrowers (never borrowed from Tipperary Credit Union or last loan was cleared over 1 year ago)
Loans from €1,000 to €29,999
Available for personal and business loans
Can be used to consolidate debt from other institutions
Each member can only avail of this rate once
Borrow for:
Holiday of a lifetime
Your Dream Car
Make your house a home
Ditch your existing lender and transfer your loan to us
Benefits:
Low cost competitive rates
Quick loan approval process (9 out of 10 loans approved within 2 working days)
Flexible loan repayment terms
No hidden charges
Free Life Loan Protection Insurance (Conditions apply to Free Life Loan Protection Insurance)
Expert advice
Pay by Direct Debit or at any of our 6 offices staffed by our friendly counter personnel
Terms and Conditions:
Available for First Time Borrowers and non Borrowers (last loan was cleared over 1 year ago)
Offer ends 31st of March 2019 (offer may be extended at the discretion of the Board of Directors)
Minimum Loan Amount €500
Loan Must be drawn down within two months of approval.
Educational Loan 6.6% APR (Variable)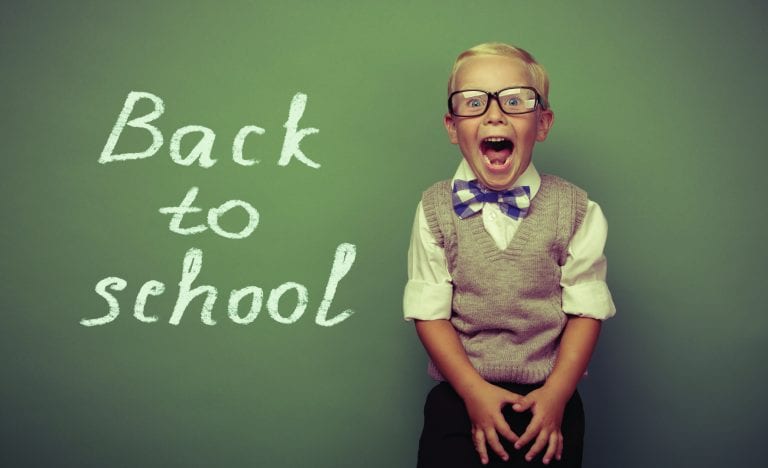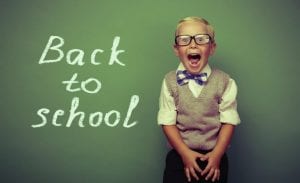 We understand the costs of sending your child to School or College  so we have put together a loan package to help you with the costs of books, fees and everything in between. Apply online now or call into any of our branches.
Secured Savings Loan 6% APR (Variable)
If you already have money saved with us and would prefer not to touch it, then this is the ideal loan for you. Call into any of our branches and take your secured savings loan today.
Large Unsecured Loan 6.25% APR
Are you looking for a large loan between €30,000 and €60,000? Are you looking to purchase farm machinary, build that large extension or even buyout your council house? Then why not avail of out "large unsecured" loan rate of 6.25%.
Minimum loan amount of €30,000 up to a max of €60,000. Typical loan term of 10 years but loans up to 20 years are available at this rate.
Secured Loans 5% APR (Variable)
For new loan amounts above €60,000. Security is required and you can incorporate existing borrowing if security is adequate to cover 125% of the loan.
Available for site purchases, extensions, council mortgages/buyouts etc. Contact the credit union today for more information.
Community Development Loans & Social Finance
Premier Agri Loan Range
Whether you're looking to upgrade your farm buildings or machinery, diversify into new types of farming or buy more livestock, come and talk to us today about the wide range of loan types available to you. We have 4 competitice loan rates with 5 flexible repayment options. Contact us today to discuss your loan options.
Our Agri Loans are available for:
Cash Flow
Refinancing
Purchase additional livestock
Winter feeds
Purchase farm machinery & equipment
Farm Improvements
Reasons to choose us for your Agri needs:
Flexible repayment options
Free loan protection insurance*
Unsecured loans up to €60,000
Secured loans up to €250,000
Terms up to 25 years
Free assistance in business plan and projections provided
*Terms & conditions apply to free Loan Protection Insurance
Note: Our loans have a variable rate which means that the rate, and your loan repayments, can go up or down during the term of your loan.
Like many other websites, we use cookies. For further information, please see our Cookies Policy. By continuing to use this website, you consent to the use of cookies in accordance with our Cookies Policy. Find out more.
Scroll to top