St Patrick's Weekend Celebrations
This year Tipperary Credit Union sponsored Tipperary Town's St Patrick's Day Parade and St Patrick's Festival Food Market and Family Fun Day. With one of the wettest weekends we have had in a while (it was the really wet rain that fell, along with a wind that decided it would be of the blustery and cold kind) the spirits where still high. As this is our 50th year serving our community we decided to go all out for our St Patrick's Day Parade.
Rachel Pilkington who is Tipperary Credit Union's ambassador braved the elements and was the Grand Marshall for the day. Rachel who is a native of Tipperary Town received a lovely welcome from the crowd who were delighted to see "one of their own" do so well. There was a lovely moment where a member of the public shouted out "Welcome home Rachel" as she reached the viewing stand. Thanks a million Rachel for showing your support to Tipperary Credit Union.
Thanks to Marian and Mike Kiely who made an extraordinary 8 Ft. birthday cake. The birthday cake lead the way for our marchers who were made up of staff, volunteers, directors family and friends. Big thank you to all those who braved the elements and showed their support.
Of course what would a Tipperary Credit Union event be without Beanie! Thank you to Beanie who gave out a lot of lollipops and high-fives on the day. He had a great time interacting with the crowd.
A big thank you to Mike O'Dwyer, John Redfern, Tom Butler and Cleary Motors of Thurles who supplied the cars for the parade.
Tipperary Credit Union also sponsored the Food Market and Family Fun Day which was held on Saturday the 18th of March. Once again the elements proved to be consistently against us over the weekend however with food, music and fun to be had we continued on with the St Patrick's weekend celebrations.
With traditional and pipe band music filling the air the party atmosphere was most definitely not dampened. There was a selection of hot food and cake stalls which ensured you were able to find something to satisfy your taste buds.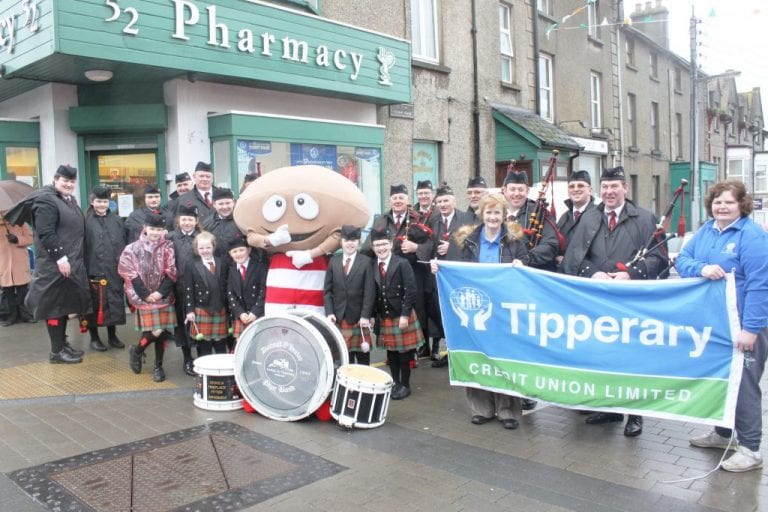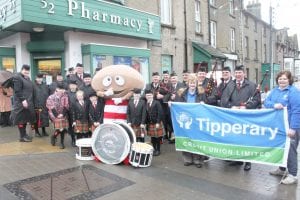 The children and some adults were kept entertained with balloon making, face painting and circus tricks.
Big congratulations to the following:
Julie Walsh of Julie's Children's Wear who was the winner of Best Window Display this year.
Ryan Fogarty who was the winner of the Under 8 fancy-dress competition.
Philip O'Dwyer who was the winner of the fabulous hamper supplied by Toomey's
Thank you to all who were involved in making this a very special St Patrick's Weekend from all at Tipperary Credit Union.